The Imaging Center of Augusta ENT operates a state-of-the-art computed tomography (CT) unit at all three locations. We pride ourselves on our ability to offer our patients a high level of convenience and affordability when it comes to their imaging needs. In order to expedite your care, the scan and follow-up visit can often be coordinated on the same day. A CT scan uses special advanced X-rays to gather many images from different angles of your body. The CT scan works by utilizing a rotating X-ray device along with a computer to capture detailed cross-sectional and three-dimensional images of body tissue and organs. The machine captures these images in sections that resemble slices of bread, allowing clinicians to see the entire surface of a single section. Combined, all of these sections produce a three-dimensional image.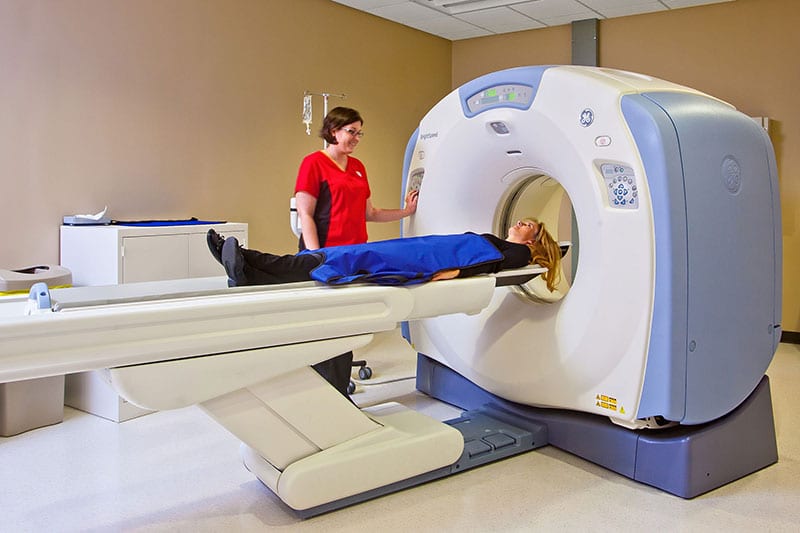 Why do I need this exam?
CT scans are helpful in clearly highlighting bone, soft tissue and blood vessels, allowing your ENT to examine your body in more detail. This can aid in providing more accurate diagnoses for health problems such as cancer, infection and trauma. All images are reviewed by a board certified physician. Patients with pacemakers or other metallic devices can safely undergo a CT scan, as opposed to an MRI exam. If there is any possibility that you are pregnant, inform your doctor or the technologist prior to the scan.
Specific Preparations
Patients should wear comfortable, loose fitting clothes for their exam. Patient preparation for a CT scan involves removing any articles of clothing or jewelry that might degrade the CT images, such as belts, earrings, bras, glasses, dentures, hairpins, zippers and snaps.
Insurance
Our facility participates with a variety of insurance carriers. If you have specific questions regarding your benefits, it is advised to check with your insurance carrier prior to your exam date. Our office staff makes an effort to have all scans pre-certified by your insurance carrier prior to completing the test.
Our CT scanners
Xoran MiniCAT IQ
All three of our facilities have a Xoran MiniCAT IQ CT scanner. The MiniCAT scanner is a low radiation dose CT scanner designed specifically for sinus scans. This type of CT scanner emits a significantly lower radiation dose and only takes 20 to 30 seconds for a sinus CT scan. Unlike conventional CT scanners, the MiniCAT allows patients to sit upright in a comfortable non-claustrophobic position.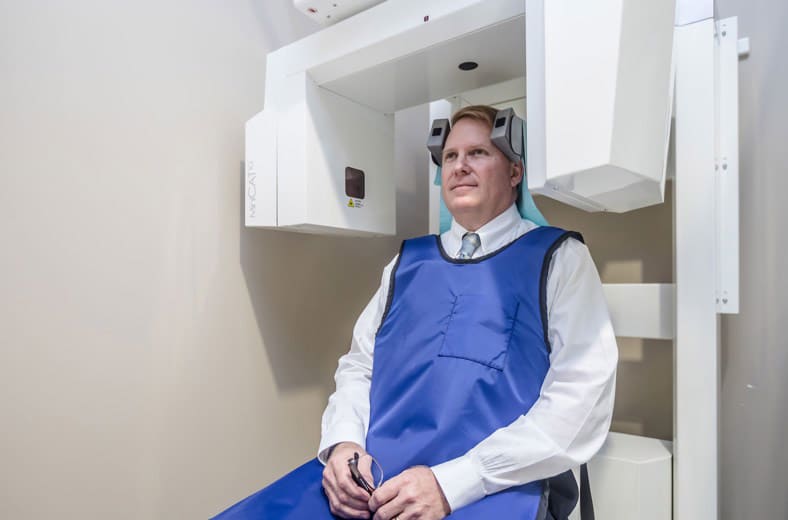 All of our MiniCAT IQ CT scanners are accredited by the Intersocietal Accreditation Commission. The IAC programs are dedicated to "improving health care through accreditation." Our facility has undergone a thorough review of its operational and technological components and upholds processes that are in compliance with national standards. We have specific standards in place for patient and personnel safety and as a patient, you can have confidence that our facility is committed to quality patient care.
GE BrightSpeed
In our Evans and Augusta locations, we have GE BrightSpeed CT scanners. The GE conventional CT scanners and are used for more advanced imaging of ear and neck anatomy. With the GE scanners, patients will lay flat for the CT scan; the scans typically last 5 to 10 minuets. For claustrophobic patients, you will have plenty of space around you and our technologists do their best to make you as comfortable as possible.
Both of our GE Brightspeed CT scanners are accredited by the American College of Radiology. The ACR accreditation program involves a stringent set of requirements including submission of clinical and phantom images, radiation dose measurements, and scanning protocols. Our GE scanners also participate in the Image Gently program. Image gently is an additional ACR specific set of requirements for pediatric patients. We pride ourselves in reducing the radiation dose to our pediatric patients and follow strict protocols to accomplish this. By following these guidelines, the imaging center provides the best quality CT scans to our patients.
Is a CT scan safe?
The long-term risks of exposure to medical radiation are small but real. The diagnostic value that a CT scan provides in the short-term usually far outweighs the long-term risk. The physicians and CT technicians of Augusta ENT, however, recognize the risks of excessive radiation exposure, especially to children. Our accreditations with the IAC and ACR are proof we are committed to giving the highest in quality care and radiation safety to our patients.
What happens after the CT exam?
Your CT scan will be interpreted by a physician. Usually the patient will see the physician the same day in a follow-up visit. The physician will look at CT images with you and provide you with the most accurate diagnosis and optimal treatment plan. Your physician may also call you with the results of the CT scan.